If you are suffering from a toothache or any other symptoms of a dental infection, you may require endodontic therapy. Drs. Metcalfe, DeLeon, and Woo offer advanced root canal treatment at our Ocala, FL, practice. As experts in endodontics, our dentists utilize 3-D imaging and advanced techniques to provide more accurate and comfortable treatment. In fact, when you visit Ocala Dental Care, your root canal could involve almost no discomfort and minimal post-procedural sensitivity. During the process, your doctor eliminates all infection and restores your tooth with a dental crown. Working with a local skilled ceramist, he can often complete all the steps of the procedure in a single appointment. Thus, a root canal can quickly restore your oral function and protect your long-term health.
When Is a Root Canal Necessary?
A root canal is the most common treatment for dental infection. An infection can occur when oral bacteria penetrates far past your dental enamel and affects the soft pulp in the central chamber of your tooth. Dental pulp houses blood vessels and nerve endings. Thus, as the bacteria multiplies, the infection can spread down the nerves, which run through your root canals. An infection can cause significant discomfort and several other problems. Drs. Metcalfe, DeLeon, and Woo may recommend a root canal if you are suffering from:
A toothache, particularly if it is worse when you bite down or when your tooth is exposed to cold temperatures
Radiating pain along your jaw
Gum abscesses
Chronic, unexplained bad breath
A tooth with dark, internal (intrinsic) stains
Your dentist may also suggest a root canal if you have a cracked tooth. In cases such as these, the crack should be fairly large, but it should not reach all the way to the roots.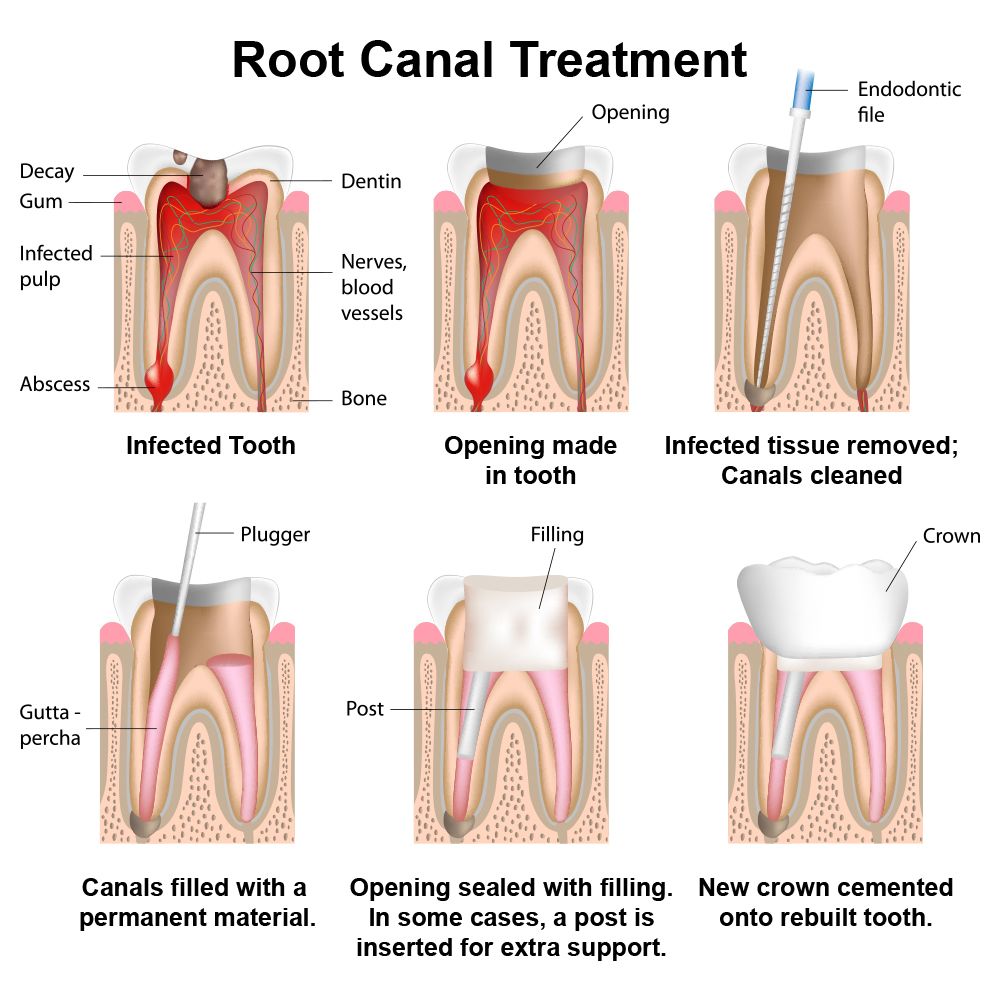 The Root Canal Procedure
Before recommending endodontic treatment, your dentist will take digital x-rays and 3-D scans of your tooth. These images can also reveal the extent of the infection and its exact location. Then your dentist can use the digital files to plan a precise treatment that will have a reduced impact on the healthy parts of your tooth. Once he is ready to begin, he will administer local anesthesia, so you should feel little to nothing during treatment. While your tooth is numb, Your doctor will clean out the bacteria and infected pulp. At the same time, he will reshape the interior part of your tooth, preparing it for a soft filling made of gutta percha. After he places this material, he will prep the outside of your tooth. Removing several layers of tissue, he will make room for a dental crown. A skilled local ceramist will create this restoration from one of several materials, including porcelain or zirconia. In some cases, you may need to come back for a second appointment, so he can attach your crown. However, in other situations, he can complete the whole process in one appointment.
The Importance of Root Canal Treatment
A root canal can be a vital treatment for both your oral and your physical health. In fact, endodontic experts like Drs. Metcalfe, DeLeon, and Woo are often known as "tooth saviors." Without this treatment, infection would get worse, and bacteria would spread. Eventually, the microbes would destroy your entire tooth, and you would require extraction and a large restoration. Even worse, the bacteria could get into your blood stream, where it could spread throughout your body. Though rare, untreated dental infection can lead to brain abscesses, blood infection, and other life-threatening health conditions. In contrast, a root canal is a relatively quick process that can completely obliterate bacteria.
Contact Ocala Dental Care Today
If you are suffering from the symptoms of an infection, do not let your oral and physical health go unprotected. Contact us today or call us at (352) 237-6196 to book a consultation and find out if you are a candidate for root canal treatment.