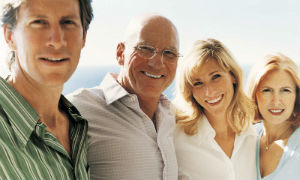 Welcome to Ocala Dental Care
Changing Lives for Over 30 Years
Giving the Residents in Our Community a Reason to Smile
Serving Ocala, Belleview, Silver Springs, The Villages & All Surrounding Areas
Welcome to Ocala Dental Care, a restorative dentist office dedicated to offering exceptional care in a friendly setting. Based in Ocala, FL, our dental practice offers comprehensive restorative and general dentistry services to patients, including basic dental hygiene and cleaning to extensive root canal and endodontics, dental implants, dentures, crowns, full mouth reconstruction, and more.
We offer metal-free prosthetics made with advanced materials in our on-site lab both to restore functionality and complete your smile.
We have three master dentists on staff: dental implants specialists Dr. Manual DeLeon and Dr. Hussein Salifu and general and restorative dentist Dr. Jeffrey Metcalfe. With three dentists on staff, we can prioritize patient service, paying special attention to your comfort. We also understand the financial elements that the patients have to decide upon and offer flexible payment plans to help our customers receive the quality dentistry they need.
We are a member of the FDA and Central Florida District Dental Association and have been serving patients for more than 30 years. Some of our most popular services include same-day dentistry services, 24/7 emergency dentistry, traditional and implant-retained dentures, denture repair, and affordable dental implants treatments.
Have Questions?  We Have the Answers
I'm having a dental emergency. Can I get help today?
What types of dental services do you offer?
I need my teeth straightened. Why should I consider Invisalign?
Here's What You Should Know >
My dental work is going to be expensive. Do you offer payment options?
My dentures need repairing? Will I have to wait for my lab work & make multiple visits?
I have time to go to the dentist today. Do you offer same day appointments?
View Our Same Day Treatment Options >
Why Choose Ocala Dental Care?
In-House
Our in-house dental lab uses only quality materials for a host of treatments and procedures. Having a dental lab on-site allows us to offer a quick turnaround on procedures including dentures, crowns, denture repair, and other services.
One Stop Shop
 Ocala Dental Care's dental lab is a one-stop shop for all your dental needs. Be it crafting new prosthetics or repairing your existing dentures on the same day, we offer comprehensive solutions.
Same Day Denture Repair
We can reline and repair your old denture using advanced materials at our onsite dental lab, often in one day. You no longer need to depend on sub-par alternatives when you damage your dentures.
Same Day Service
We offer same-day dentistry services, including dentures, denture repair, crowns, bridges, tooth extractions and fillings.

I would 110% recommend Dr. Hussein Salifu to anyone who dislikes going to the dentist. He walked me through step by step what had to be done before hand and while he was doing it. He talked to me the entire time to try and keep me calm while he was doing the procedure. He was absolutely phenomenal
Staff was beyond friendly and helpful. Kathleen was especially great, she kept me updated the entire time I was in office and has an amazing uplifting attitude🤗
Ocala Dental Care is Proud to Offer Dental Services to the Communities in
Belleview
Candler Hills
Dunnellon
Ft. McCoy
Lady Lake
Marion Oaks
McIntosh
Ocala
Oxford
Reddick
Silver Springs
Summerfield
The Villages
Top of the World
Weirsdale