About Ocala Dental Care
If you are in need of an Ocala dentist, the smart choice is to call Ocala Dental Care. The staff at our dental practice is dedicated to giving every one of our patients the highest quality care in the most comfortable and relaxed setting. We offer a comprehensive list of general and cosmetic dental care treatments, all geared toward giving you the healthiest and most beautiful smile possible. Call us today for more information.
At Ocala Dental Care, we understand the needs of patients in Ocala and surrounding areas; we've been serving patients in this area for over 30 years. Our priorities are customer comfort and satisfaction, and we always do business on a strict standard of excellence. When you come in for dental treatment, you know right away that you're in good hands. We do everything that we can to make you feel comfortable and welcomed, and when you are undergoing treatment, we continue helping you to feel comfortable and relaxed. We provide general and cosmetic dental services, and often these services overlap!
Our dentists make it a point to stay current on all of the latest dental treatment methods, and we use only state-of-the-art equipment, so that you can rest assured you're getting only the highest quality care. Our goal is to give you a healthy and beautiful smile so that you can feel confident showing it to the world. We provide the best in general dental care, including cleanings, x-rays, cavity fillings, and dental surgeries when needed. In the cosmetic area, we offer such things as teeth whitening, teeth straightening, dental implants, and veneers.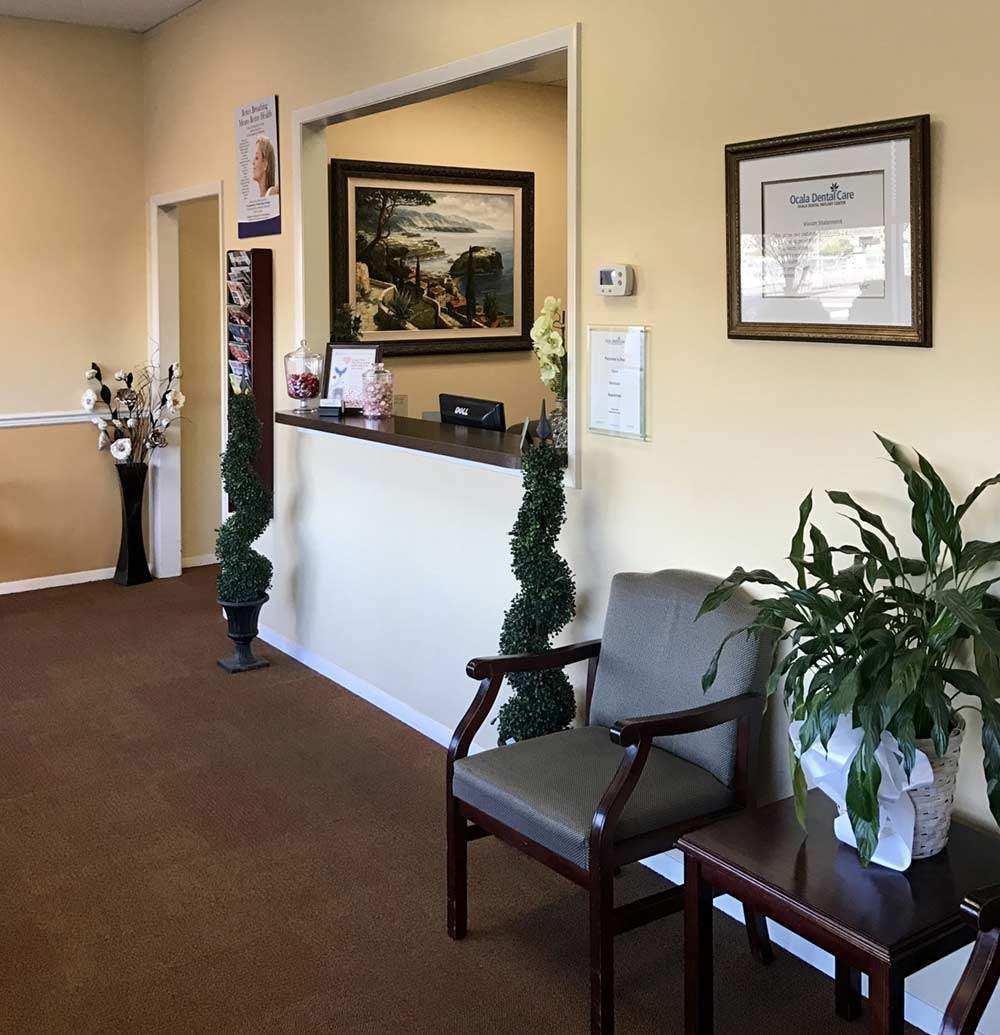 We work with all major PPO dental plans and we offer financing options as well for services that dental insurance won't cover. Call us today to set up an appointment for a cleaning and check-up, or a cosmetic dentistry consultation.
When you want an Ocala dentist that you can trust with your smile, you need to call Ocala Dental Care. At our dental practice, patients come first, and our goal is to send you out the door loving your smile. Call us today and let's talk about your dental care needs.
Why Choose Ocala Dental Care?
In-House
Our in-house dental lab uses only quality materials for a host of treatments and procedures. Having a dental lab on-site allows us to offer a quick turnaround on procedures such as dentures, crowns, denture repair, and other services.
One Stop Shop
Ocala Dental Care's dental lab is a one-stop shop for all your dental needs. Be it crafting new prosthetics or repairing your existing dentures on the same day, we offer comprehensive solutions.
Same Day Denture Repair
We can reline and repair your old denture using advanced materials at our onsite dental lab, often in one day. As a result, you no longer need to depend on sub-par alternatives when you damage your dentures.
Same Day Service
We offer same-day dentistry services, including dentures, denture repair, crowns, bridges and tooth extractions.    Additionally, we can do fillings and remove old fillings in the same day.
Ocala Dental Care is Proud to Offer Dental Services to the Communities in
Belleview
Candler Hills
Dunnellon
Ft. McCoy
Lady Lake
Marion Oaks
McIntosh
Ocala
Oxford
Reddick
Silver Springs
Summerfield
The Villages
Top of the World
Weirsdale