Denture Repair and Relining
For denture repair in Ocala Florida, look no further than the professionals at Ocala Dental Care. At Ocala Dental Care in Ocala, FL, we offer affordable denture repair, relining and repairing dentures in our on-site dental lab. We proudly use high-quality materials, and we can typically complete repairs in a single day. Our focus is on aesthetics and longevity, and we can ensure that your prosthetic fits securely and resembles your natural teeth as closely as possible. Of course, a comfortable, proper fit will also ensure your full dental function. Additionally, our costs are often much lower than those at other area practices, and we offer multiple financing options to assist with your out-of-pocket costs. Though you may need to have your dentures relined periodically, our repairs typically last for many months and even years depending on the state of your current denture. Call today.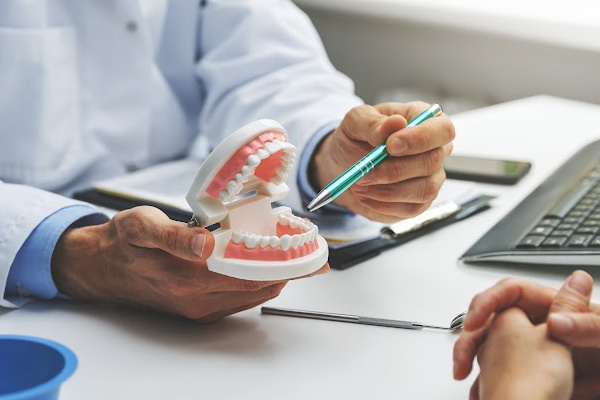 We use Cutting-Edge Technology to Repair and Reline your Dentures in Less than One Business Day!
Types of Dentures Repair
We can perform all types of denture repair in our fully equipped and state-of-the-art lab. Some of the most common problems that we address include:
Relining Dentures:
Traditional dentures should fit snugly around your gums and the underlying bone, known as the alveolar ridge. However, when you are missing teeth, your jaw may slowly start to recede, and the alveolar ridge could change shape, causing your restoration to become loose and affecting your oral function as well as potentially causing gum irritation. To prevent these problems, you may need to have your denture relined periodically.
Broken Dentures:
A denture can break for many reasons. If you neglect your denture relines, the incorrect fit can weaken the prosthetic, making it more prone to damage. Dr. DeLeon or Dr. Woo can often oversee the repair of severe damage, including pieces that have fully broken off.
Worn Synthetic Teeth:
If you grind your teeth, have uneven jaw alignment, or you do not have your denture relined, the synthetic teeth may start to wear down. We can replace this part of your prosthetic using advanced acrylic that will match your smile.
Why Choose Ocala Dental Care?
In-House
Our in-house dental lab uses only quality materials for a host of treatments and procedures. Having a dental lab on-site allows us to offer a quick turnaround on procedures such as dentures, crowns, denture repair, and other services.
One Stop Shop
Ocala Dental Care's dental lab is a one-stop shop for all your dental needs. Be it crafting new prosthetics or repairing your existing dentures on the same day, we offer comprehensive solutions.
Same Day Denture Repair
We can reline and repair your old denture using advanced materials at our onsite dental lab, often in one day. As a result, you no longer need to depend on sub-par alternatives when you damage your dentures.
Same Day Service
We offer same-day dentistry services, including dentures, denture repair, crowns, bridges and tooth extractions.    Additionally, we can do fillings and remove old fillings in the same day.
Ocala Dental Care is Proud to Offer Dental Services to the Communities in