A Full Selection of Custom-Made Dentures, Including Ultramodern Implant-Retained Prosthetics
If you are missing a considerable number of teeth, you could benefit from dentures available from the professionals at Ocala Dental Care. At our Ocala, FL, practice, we offer both traditional and implant-retained prosthetics to restore your appearance, oral function, and self-confidence. At our practice, we can place dental implants and attach your denture all in one convenient location thanks to our on-site lab that also enables us to provide same-day dentures. Your dentist can help evaluate your cosmetic goals, oral health, and budget to determine the right type of prosthetic for you. We work hard to provide many options for our patients by offering various types of implants, advanced restorative materials, and convenient financing to help restore your smile.
Types of Dentures
There are several kinds of dentures. The type of denture that makes the most sense will depend on the condition of the patient's teeth. Depending on how many teeth are missing, the dentists at Ocala Dental Care will identify the best option for you and your needs. They are experts at properly fitting our patients.
Traditional dentures are the most conservative and affordable option to replace missing teeth. These restorations come in two sizes: Full and Partial.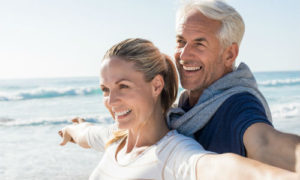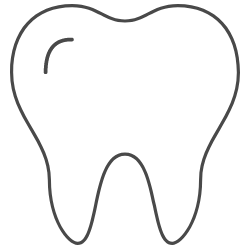 Full Dentures
A full set of dentures are designed to replace either the entire bottom or top set of teeth. They will fit across your entire alveolar ridge to replace all of the teeth in your upper or lower arch. A full denture has an acrylic base and can be secured in place with traditional implants as well as suction.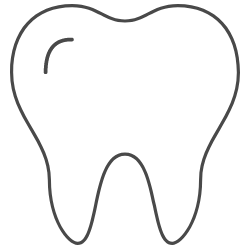 Partial Dentures
Partial dentures can replace many—but not all—of your teeth. Like a full denture it has an acrylic/metal base, and attaches to your remaining teeth with small, virtually undetectable clasps as well as suction.
Benefits of Dentures
There's no question that dentures help the patient restore their confidence and just feel better about themselves and their appearance. Confidence based on improved speech and appearance cannot be understated. Dentures also help a patient retain a more youthful look as their face will not take on a sunken appearance.
Function
You will see an improved ability to bite and chew with very few limitations on food types
Maintenance
Because they are removable, dentures are easy to clean, brush and maintain. And when in place dentures will mirror the appearance of your real teeth.
Cost
Today's dentures make for an extremely cost-effective solution.
Traditional Dentures can Effectively Restore your Smile while an Implant-Supported Restoration is Unrivaled in Stability and Durability.
Implant-Retained Dentures
Implant-retained dentures are also available as full and partial prosthetics. Although they perform the same functions as traditional dentures, they are much more stable because the dental implants replace your tooth roots. Dental implants also prevent bone loss and jawbone recession, common problems that can dramatically affect your appearance and your oral health after tooth loss. Thus, an implant-retained denture can preserve your youthful profile and the natural proportions of your face.
Dr. DeLeon and Dr. Salifu are our implant specialist and they can place any type of implants. Before your implant surgery, your doctor will conduct a thorough consultation to evaluate the state of your oral health and determine if you require any preparatory procedures such as a bone graft or a sinus lift. These procedures are necessary for patients who may have compromised bone tissue as a means to create a secure base for the implant posts.  Dr. DeLeon and Dr. Salifu can often place implants without bone grafting. This system is also a more economical option for fixed full or partial dentures. Call or contact us today to schedule your consultation.
Why Choose Ocala Dental Care?
In-House
Our in-house dental lab uses only quality materials for a host of treatments and procedures. Having a dental lab on-site allows us to offer a quick turnaround on procedures such as dentures, crowns, denture repair, and other services.
One Stop Shop
Ocala Dental Care's dental lab is a one-stop shop for all your dental needs. Be it crafting new prosthetics or repairing your existing dentures on the same day, we offer comprehensive solutions.
Same Day Denture Repair
We can reline and repair your old denture using advanced materials at our onsite dental lab, often in one day. As a result, you no longer need to depend on sub-par alternatives when you damage your dentures.
Same Day Service
We offer same-day dentistry services, including dentures, denture repair, crowns, bridges and tooth extractions.    Additionally, we can do fillings and remove old fillings in the same day.
Ocala Dental Care is Proud to Offer Dental Services to the Communities in