Porcelain Veneers
Illuminate your Smile with Porcelain Veneers!
Are your teeth stained, discolored or naturally dark? Are your teeth spaced too far apart with unsightly gaps? If you answered yes to any of these questions, then you could be a perfect candidate for veneers. So, if you're unhappy with your smile, don't be. There is a solution. At Ocala Dental we realize your smile is part of what makes up your "first impression". When dental problems prevent you from having a smile you can be proud of, your confidence can become eroded adding to your feeling awkward or uncomfortable in social or work settings.  In the end, the goal of the dental team at Ocala Dental Care is to create the smile of your dreams!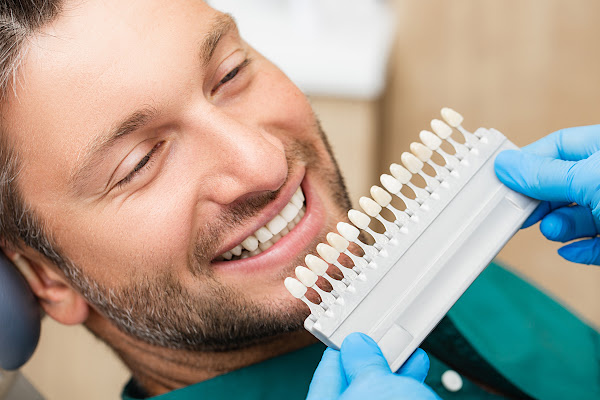 What are Porcelain Veneers?
Porcelain is the perfect material to match the look and feel of your real teeth in both color and opalescence. They are very thin, usually not more than 0.5 mm in thickness. That's comparable to a contact lens. Due to their extreme thinness, there is very little preparation required prior to the veneers being bonded to your teeth. Our dentists or technician will take impressions of your natural teeth which are then used to create the custom veneers for your makeover. Once created, your dentist will attach your veneers to your teeth using a bonding glue or cement. Once installed, they are extremely strong. All of this can be accomplished in just 2 visits to our office.
Rejuvenate Your Smile in just Two Visits!
From cracks and chips to gaps and misshapen teeth, patients who are considering veneers are looking to improve their smile both cosmetically and structurally.
Veneers can change your smile by addressing imperfections such as:
Short, Asymmetrical or Misshapen Looking Teeth
A Beautiful Healthy Smile is a Phone Call Away!  Schedule Your Consultation
Learn more about how Porcelain Veneers could change your life and explore how you can have a healthier and more attractive smile. Contact Ocala Dental Care today to schedule your consultation.
Why Choose Ocala Dental Care?
In-House
Our in-house dental lab uses only quality materials for a host of treatments and procedures. Having a dental lab on-site allows us to offer a quick turnaround on procedures such as dentures, crowns, denture repair, and other services.
One Stop Shop
Ocala Dental Care's dental lab is a one-stop shop for all your dental needs. Be it crafting new prosthetics or repairing your existing dentures on the same day, we offer comprehensive solutions.
Same Day Denture Repair
We can reline and repair your old denture using advanced materials at our onsite dental lab, often in one day. As a result, you no longer need to depend on sub-par alternatives when you damage your dentures.
Same Day Service
We offer same-day dentistry services, including dentures, denture repair, crowns, bridges and tooth extractions.    Additionally, we can do fillings and remove old fillings in the same day.
Ocala Dental Care is Proud to Offer Dental Services to the Communities in