Wisdom Teeth Removal Reddick
For wisdom teeth removal in Reddick, Florida and the surrounding area, look to the professionals from Ocala Dental Care. Wisdom teeth derive their name as they typically are the last teeth to "erupt" in your mouth. This can occur when a patient is as old as 25. When wisdom teeth align properly and there are no issues with the gums, removal is not necessary. However, when they fail to erupt properly, grow in sideways, partially emerge or remain trapped below the gum, problems can arise which will necessitate their removal. The thought of having to have one or more of your teeth "pulled" is at the very least disconcerting to most people and having to have your wisdom teeth removed can be even more unsettling. However, at Ocala Dental Care our dentists are skilled in the techniques of wisdom teeth extraction, and this procedure is routinely done with minimal discomfort to the patient. Pain should never be a major issue with an extraction. With various local and other anesthetics, we can ensure your complete comfort through the entire process. So, if you're experiencing discomfort or pain and need wisdom teeth removal in Reddick, call us today to schedule your free consultation.
What is Dry Socket?
Dry Socket is a possible condition that may occur 3 to 4 days after extraction.  As bone and nerves are exposed, it can cause pain and bad breath.  The best course of action is to flush the area and keep it clean until it properly heals.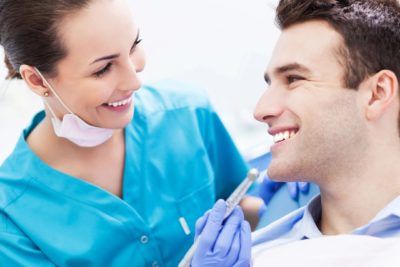 Removal Process and Follow Up
Depending on the patient and the state of their wisdom teeth, the removal procedure is usually performed under a local anesthetic such as nitrous oxide, (laughing gas). In some cases, an oral sedative may also be used. Our dentists will explain all the options available to you as well as any possible complications or risks. When your wisdom teeth are removed the gum will be sutured and gauze placed over the area to absorb any bleeding. As with other procedures, patients will need a caregiver to bring them to and from our offices. A follow up appointment will be scheduled for about a week later for the removal of the sutures.
Following Wisdom Tooth Extraction
Unlike a simple extraction, most patients will feel some discomfort following wisdom tooth extraction. This will last several days. Depending on the severity of the extraction some patients may experience swelling in the area of tooth removal which can be addressed with ice packs. In the immediate days following the procedure, softer foods should be eaten, and spicy or hard chewy foods should be avoided. Your dentist will prescribe an appropriate post procedure pain medication for you based on the extent and difficulty of the extraction. In some cases, this may also include an antibiotic. Care should also be taken when brushing or flossing not to aggravate the area where the wisdom teeth were removed.
To learn more about wisdom tooth extractions and explore how you can have a healthier and more attractive smile, contact Ocala Dental Care today.

This Dentistry is very professional, and the staff is very courteous. Dr. Hussein Salifu performed my all 4 of my Wisdom Teeth Extraction, and he was extraordinary with his performance. He made me feel very confident in his skills and also made me comfortable during the procedure.
Why Choose Ocala Dental Care?
In-House
Our in-house dental lab uses only quality materials for a host of treatments and procedures. Having a dental lab on-site allows us to offer a quick turnaround on procedures including dentures, crowns, denture repair, and other services.
One Stop Shop
 Ocala Dental Care's dental lab is a one-stop shop for all your dental needs. Be it crafting new prosthetics or repairing your existing dentures on the same day, we offer comprehensive solutions.
Same Day Denture Repair
We can reline and repair your old denture using advanced materials at our onsite dental lab, often in one day. You no longer need to depend on sub-par alternatives when you damage your dentures.
Same Day Service
We offer same-day dentistry services, including dentures, denture repair, crowns, bridges, tooth extractions and fillings.
Ocala Dental Care is Proud to Offer Dental Services to the Communities in
Belleview
Candler Hills
Dunnellon
Ft. McCoy
Lady Lake
Marion Oaks
McIntosh
Ocala
Oxford
Reddick
Silver Springs
Summerfield
The Villages
Top of the World
Weirsdale